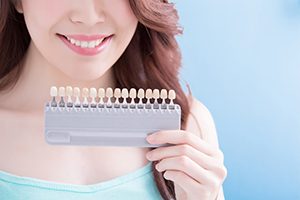 Ever since the invention of the mirror, people have been looking for an easy way to have whiter teeth. Brushing, flossing, and regular dental visits help by removing stains and deposits on the surface of the teeth. But for those patients whose teeth have dark, yellow or other internal discolorations, teeth whitening may be the answer.
At about age thirty, there is a natural tendency for tooth color to dim, and if you smoke or overindulge in coffee or soda, darkening can be dramatic.
Teeth whitening systems take many forms. Professional, in-office treatments use a special frequency of light to activate a whitening solution. These systems change color dramatically in just one visit.
There are also various at-home options, allowing you to conveniently whiten your teeth while you're relaxing or while you sleep. We make you a clear plastic mold which fits over your teeth. (It is fairly thin and barely visible.) You place the whitening solution into the mouthpiece, slip it into place, and go about your business. That's it.
The process takes several weeks and won't harm fillings, bonding, crown, or other dental work. Call us to learn more about teeth whitening options to brighten your smile!