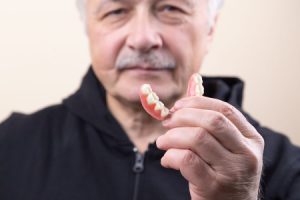 Do Your Dentures Still Fit Well?
It might be time to get a tune-up!
Dentures are a great replacement option for people who have lost all or most of their natural teeth. But they are far from perfect. As you age, the conditions of your mouth continue to change. Dentures that once fit snugly may loosen or even become painful with time.
Are you a denture wearer who's grown impatient and uncomfortable with their fit and feel? Are you considering tooth implants? Or are you someone who demands no less than the best in everything, especially health and dental services? Then it's likely you'll appreciate the high-quality dentures provided at our practice!
Whether it's a brand new denture or a reline on your old appliance, we view each case as high-priority, with attention to detail a must. After all, when your teeth are concerned, it can impact your ability to eat, speak, and smile with confidence. Indeed, few things can affect your quality of life in such a profound and all-encompassing way.
Our approach to tooth replacement is especially effective with patients who have worn dentures and are now experiencing painful, receding gums. It begins with new impressions (or molds) so that we can match the exact dimensions of your mouth. We may also choose to implement a special treatment denture, featuring a soft-liner between denture and gums, which gently molds to the shape of your mouth. It can also be changed as needed to customize its fit and function.
You will also find these denture services valuable if you're considering implants. When implants anchor replacement teeth, it's vitally important that tooth position and the correct bite are determined before implants are placed. If you seek the very best personalized denture treatment, please call our office to arrange a consultation!