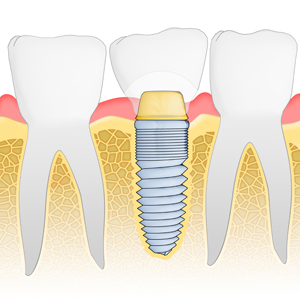 For the right patient missing the right tooth, the Tooth Fairy has bailed us out again. A lot of people are missing a single tooth. Until recently, the only options for replacement took the form of a bridge. Dentistry calls this gizmo a fixed or removable partial denture and, for it to fit properly, a fair bit of work is involved to remove enamel from neighboring teeth.
Ta-dah. The single-tooth dental implant.
Implants in general boast a good track record for stability and natural feel. Most patients who seek out dental implants want to steady a shifty denture, or bridge a large gap of several lost teeth, but we can also do just one.
Especially for those of us annoyed by the look of a lost front tooth, dental implants are an attractive alternative to fixed bridges or partial dentures. The strength of this restoration is awesome; the care is less tiresome; and the cosmetic result is over the top. Next-door teeth must be in good shape and your medical condition wholesome. We'll examine the integrity of bone where the tooth once called home and, if your facial growth is complete—you have to be of-age for this procedure—we'll talk. And we think you'll have something to smile about.