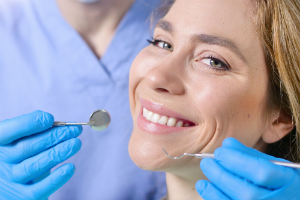 When looking for a new dentist, there are several possibilities to consider. Whether you just moved and are new to the area, had a bad experience at a different dental practice, or you simply haven't been to the dentist in a while, choosing a new dentist you can trust is essential. Maybe you have a new job that provides dental benefits that were previously unavailable.
Things to Consider When Choosing a New Dentist
Meet for a Consultation/First Visit
At your first visit, you'll probably have an exam, X-ray, and cleaning. But if you need more extensive treatment, or are planning on cosmetic improvements, you may want to schedule a consultation. There, you can get acquainted with the dentist and team members, as well as take a tour of the facility. Most importantly, you'll have a meeting to discuss your goals and desires for your dental health and the appearance of your smile.
Read Reviews
When searching for a new dentist, we encourage you to read the online reviews and see what other patients are saying. It's a great way to hear the inside scoop of a dental office. And (while nobody is perfect) we're confident you'll like what our patients have to say about our office.
Ask Friends and Family
Relying on friends and family is a great method for finding a new dentist. You can hear an unbiased opinion from the people you trust. Additionally, once you become one of our patients, we very much appreciate any of your friends and family you recommend to our practice!
Make Sure Your Dentist Fits Your Needs
Dentists should always be understanding and accommodate the various needs of their patients, and we strive to bring this attitude to the office every day. If there is ever anything we can do to make your visit smoother and more enjoyable, just let us know!