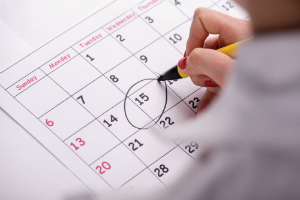 Don't Even Think About Skipping!
Understandably, you may find yourself skipping a dental appointment now and then. We recognize that life events and unforeseen circumstances can sometimes get in the way. Of course, we appreciate you letting us know as soon as possible when these situations arise. The earlier we know of a change in your schedule, the better chances we can fill the gaps with other patients, or move someone to a sooner appointment. More importantly, however, you should always try to reschedule your appointment, rather than neglecting a checkup or other treatment.
Why's that?
Checkups are an essential part of your overall health. We may even be able to detect several medical conditions, vitamin deficiencies, and other ailments during your examination.
Additionally, if you are canceling a treatment that we've planned and outlined, we must reschedule for as soon as possible. You may be having trouble with a particular tooth or a cavity that requires a filling, and we wouldn't want the problem to get any worse in the meantime.
When it comes to skipping the dentist, there's just no good reason.
Are you tight on money? Do you think skipping the dentist is an effective way to save? Well, you may side-step some short term expenses, but skipping your dental checkups, cleanings, and necessary treatment can result in more expensive repairs and procedures down the line. We typically encourage all our patients to have at least two dental checkups every year. Depending on your condition, we may recommend more for the time being. Some patients tend to produce more plaque and are thus at a higher risk for cavities. These individuals may substantially benefit from extra visits.
If you are a new patient and looking to schedule an appointment or consultation, please don't hesitate to call our office at (408) 532-0435.