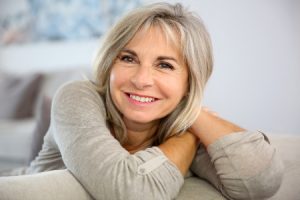 Is A Partial Denture Right For You?
A partial denture is… probably just what you are envisioning! It is a removable oral appliance used to replace missing teeth. However, unlike a complete denture, it does not replace the entire arch of teeth, but rather just a few, or even just a single tooth.
When Teeth Are Missing…
No matter where it occurs in the mouth, a missing tooth is always a hassle. Up in the front of the mouth, a missing tooth is unsightly, but it can also cause trouble when taking a bite out of food and inhibit proper speaking ability. In the rear of the mouth, a missing tooth is fortunately much less visible. However, it still causes trouble when chewing. It can be especially painful when chewing hard or sharp foods that accidentally strike the exposed gum tissue.
Tooth Replacement Options
There are several different options for replacing a missing tooth.
A dental bridge uses crowns on the surrounding teeth to provide support for a replacement. A dental implant uses a titanium anchor to support a crown. And another option is a partial denture.
A partial denture uses a series of wires combined with acrylic plastic to support replacement teeth. In much the same way as orthodontic retainers, a partial denture clasps to the roof of your mouth or the lower teeth. It can be a highly effective and convenient way to replace one or more missing teeth. Additionally, as changes in the mouth continue to occur, we can refit your partial to meet your changing needs by adding additional teeth replacements as necessary.
Only a dentist can determine which tooth replacement option is best and whether a partial denture is suitable for you. Contact us today to schedule a consultation!