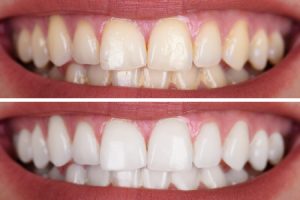 Is It Time for Teeth Whitening?
If you want to look your best, one of the easiest and quickest ways is teeth whitening. Maybe you're starting a new job and want to make a great first impression, or perhaps you noticed your teeth looking… not so great on a video conference call. Or, maybe it's for a special event like a wedding, prom, family reunion, etc. Whatever the occasion, whitening will help you know you're looking great!
Making the teeth whitening choice.
One of the great parts about whitening is that it's a personal choice. There's no right or wrong answer about whether or not you should do it. Instead, it's all about how you feel; only you can decide if it's right for you. And, when you are ready to consider this simple cosmetic procedure, we will be happy to discuss your options, offer advice, and educate you about the process and what kind of results you can expect.
Remember, you are the only one who can judge your own self-esteem. So only you know if your appearance is truly negatively affecting your life. If you contact us about teeth whitening or other cosmetic procedures, we would be happy to schedule a consultation!
What options are available?
Today, there's an ever-expanding list of over-the-counter whitening products, including whitening toothpaste, rinses, strips, or other applicators. While these products may provide some whitening results with continued use, they typically will not compare to the professional results that your dentist can provide.
Additionally, it's important to remember that teeth must be in relatively good health with no periodontal disease present before undergoing teeth whitening. We recommend getting a thorough cleaning beforehand so that your teeth get the full benefit of the whitening results.
Please Don't hesitate to get in touch and schedule a consultation!